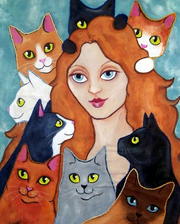 Here is the cottage of a cat lady. Yup, a cat lady. She is one of the few humans in this world (Wikia) and she's blind. Cat Lady thinks that you are a human, but isn't aware that humans are now endangered. She claims that some of her cats went missing and thinks that they travelled to The Forest of Night. She is very worried, and will reward you.
Quest: Find 5 cats in The Forest of Night. Your reward will be a hearty meal of Curry, and 200 gold (because she likes her cats too much). 
Ad blocker interference detected!
Wikia is a free-to-use site that makes money from advertising. We have a modified experience for viewers using ad blockers

Wikia is not accessible if you've made further modifications. Remove the custom ad blocker rule(s) and the page will load as expected.