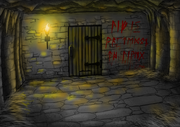 This is a dangerous Dungeon, with blood words smeared on the walls... This is a danger zone, but now, monsters have been attacking anyone who dares come near, often with death... If you battle these monsters (Played by Lunifer to make it fair), you will be rewarded with 1000 gold, that can be spent on items in stores... But beware, these monsters can be any monster, goblins, dragons, but no one knows because each victim died seeing them...
Ad blocker interference detected!
Wikia is a free-to-use site that makes money from advertising. We have a modified experience for viewers using ad blockers

Wikia is not accessible if you've made further modifications. Remove the custom ad blocker rule(s) and the page will load as expected.